A/K/A Benjamin
(Franklin's Women)
2 performances only!
August 23 at 8:00 pm
August 25 at 8:00 pm
as part of the 240th Commemoration of the Battle of Brooklyn
The Old Stone House
Washington Park
336 3rd St.
(between 4th & 5th Avenues)
Brooklyn, NY
Featuring original text by Benjamin Franklin
Original Music Composed by
Benjamin Franklin,
Whitney George, Stephanie Greig, Manuela Lechler, Wolfgang Mozart, Kyoko Oyobe, and Ann Warren
Choreography by Johari Mayfield
Projections by Robert Morton
The Old Stone House
336 3rd St.
(between 4th & 5th Avenues)
Brooklyn, NY


Program
Welcome
Adagio in C for Glass Armonica
Composed by Wolfgang Amadeus Mozart
(arranged for Solo Guitar)
Stephanie Greig - Guitar
µ ¥
Vice vs Virtue
January 13, 1736
The Drinker's Dictionary
by Poor Richard
Printed in The Pennsylvania Gazette
Nothing More Like a Fool than a Drunken Man
Composed by Ann Warren & Joe Tucker
Choreographed by Johari Mayfield
Joe Tucker - Piano & Percussion
Johari Mayfield - Dancer
Alejandra Venancio - Narrator
µ ¥
Freedom (of speech)
July 9, 1722
Letter to the Author of the New-England Courant
by Silence Dogood
Printed in The New-England Courant
Prelude & Song of the Waterfall
Composed by Manuela Lechler
Hugh Ash - Trumpet, Manuela Lechler - Alto Sax
Kyoko Oyobe - Piano, John-Paul Norporth - Bass, Adam von Housen - Violin,
Alejandra Venancio - Narrator
µ ¥
Witch Hunts
October 22, 1730
A Witch Trial at Mount Holly
by Anonymous
Printed in The Pennsylvania Gazette
A Secret Passion
Composed by Kyoko Oyobe
Manuela Lechler - Alto Sax, Kyoko Oyobe - Piano,
John-Paul Norporth - Bass, Joe Tucker - Drums,
Alejandra Venancio - Narrator
µ ¥
Adultery (and unequal treatment of women) 
April 15, 1747
The Speech of Miss Polly Baker
by Polly Baker
Printed in London's The General Advertiser
A Statue Erected to My Memory
Choreographed by Johari Mayfield
Composed by Ann Warren
Adam von Housen - Violin, John-Paul Norporth - Bass
Johari Mayfield - Dancer
Alejandra Venancio - Narrator
µ ¥
Invention
1761
Benjamin Franklin invents the Glass Armonica 
A Look at the Glass Armonica
µ ¥
Love and Negotiation
Passy, July 27, 1778
A letter written to
Anne-Louise Boivin d'Hardancourt Brillon de Jouy
Perhaps That is the Fault of My Spectacles
(Treaty of Paris)
Composed by Ann Warren
Hugh Ash - Trumpet
Adam von Housen - Violin
Ann Warren - Glass
Alejandra Venancio - Narrator
µ ¥
Value
Passy, November 10, 1779
Based on Letter to Madame Brillon
The Whistle
composed by Stephanie Greig
Stephanie Greig - Guitar, Kyoko Oyobe - Piano,
John-Paul Norporth - Bass, Adam von Housen - Violin,
Alejandra Venancio - Narrator
µ ¥
Equality (for women's education)
1785
Petition of the Left Hand
by The Left Hand
Petition of the Left Hand
Composed by Stephanie Grieg
Stephanie Greig - Guitar, Kyoko Oyobe - Piano,
John-Paul Norporth - Bass, Adam von Housen - Violin,
Alejandra Venancio - Narrator
µ ¥
Slavery
March 23, 1790
A letter to the Federal Gazette that includes a translation of a letter
written in 1697 by Sidi Mehmet Ibrahim, a member of the Divan of Algiers
Circumstance
Composed by Whitney George
Choreographed by Johari Mayfield
Hugh Ash - Trumpet, Kyoko Oyobe - Piano, John-Paul Norporth - Bass,
Joe Tucker - Percussion, Adam von Housen - Violin,
Johari Mayfield - Dancer
Alejandra Venancio - Narrator
µ ¥
Benjamin Franklin - Composer!
Benjamin Franklin Suite
Composed by Benjamin Franklin
Arranged by Ann Warren
Overture, Minuet, Caprice, Waltz, Siciliano
Hugh Ash - Trumpet, Manuela Lechler - Alto Sax, Kyoko Oyobe - Piano,
John-Paul Norporth - Bass, Joe Tucker - Glockenspiel, Adam von Housen - Violin
Artist Bios
Take a look at a really interesting group of artists!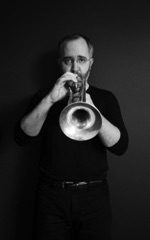 Hugh Ash has taken his trumpet around the globe, performing everything from contemporary classical to standard repertoire, jazz, rock, and world music.
Based in Brooklyn, Hugh is a versatile musician and active free-lancer, currently playing with The Curiosity Cabinet and the Metropolitan Brass Quintet as well as with various local orchestras and opera companies. A lover of contemporary classical music, Hugh actively champions work by living composers, performing premieres by Philippe Manoury, Larry Sitsky, and David Maslanka among others.
Hugh received his bachelor's degree in Classical Music and Anthropology from Ithaca College and studied Jazz/Commercial music at The State University of New York at Purchase College, and has studied with such notable trumpet players as Ray Vega, Jon Faddis, Graham Ashton, Vince Penzarella, Kim Dunnick and Vince DiMartino.
Prior to settling in New York City, he performed around the world for a number of years with Royal Caribbean Cruise Lines.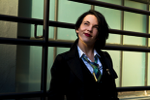 Whitney George is a composer and conductor who specializes in the use of mixed media to blur the distinctions between concert performance, installation art, and theater. Utilizing a wide variety of material including literary texts, silent film, stock footage, and visual arts, George's compositions are characterized by an immersive theatricality that thrives on collaboration in all phases of the creative process. Her affinity for the macabre, the fantastic, and the bizarre frequently gives rise to musical programs that evoke the traditions of phantasmagoria and melodrama, challenging musicians to experiment liberally with their stage personae, and audiences to widen the scope of their attention. 
She is the artistic director and conductor of The Curiosity Cabinet, a chamber orchestra formed in 2009 whose members were culled from a network of close collaborators within New York's diverse new music scene. The Cabinet's live performances often engage playfully with the prototype of the classical concert, imbuing even non-theatrical compositions with elements of drama. The ensemble has participated in the inaugural CUNY New Music Festival and was invited as the ensemble-in-residence at the Hartford Women Composers Festival in 2012.
George holds an undergraduate degree from the California Institute of the Arts, a masters degree from Brooklyn College Conservatory, and is currently continuing her studies as a PhD candidate at the CUNY Graduate Center, where she studied with David Del Tredici, David Olan, Bruce Saylor, and Tania Leon. In addition to her composing and conducting, George teaches at the Brooklyn College Conservatory, works at the Hitchcock Institute of American Studies and is the Managing Director for New York's American Modern Ensemble (AME). For more information, visit www.whitneygeorge.com.
The daughter of Las Vegas bassist Kenny Greig, Stephanie grew up listening to live music, from the musicians' union rehearsal bands playing Count Basie and Duke Ellington charts to the eclectic mix of music in the hotels on the Las Vegas Strip. At age fourteen, she was playing guitar in her father's pop quartet and in blues, funk and rock groups with her peers. With a lifelong love for the great Broadway composers, she devoted herself to learning the Great American Songbook. She studied composition at Smith College, focusing on the intersection of music and theater, particularly the Brecht-Weill collaborations. After a few years acting in small theaters, she acquired an upright bass and began playing in jazz groups in New York. She has played with bands in a variety of settings all over the New York area as well as Spain, Japan and Curacao. She is currently double bass principal in the Brooklyn Symphony Orchestra.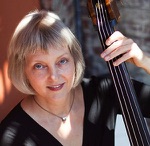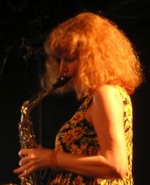 Manuela Lechler (Composer, Saxophonist) has graduated from Steiner School in Stuttgart, Academy for Visual Arts in Stuttgart, Germany and Queens Conservatory of Music, NY, in Jazz Saxophone. She has been performing and recording music over many years in Europe and America and with various bands.
Besides with her own duo/trio, she has worked with Combo Azul, Bananas Sanfonicas, Open Music Ensemble, Concrete Timbre, among others. Her repertory includes her original compositions, Jazz Standards, Brazilian, Contemporary, Free Improvised music and more. Other collaborations include shows such as: Helfrid Foron & K. Schwitters Der Zusammenstoss with theTuebinger Zimmertheater in Germany, and Cabbage Moon, a musical fairytale composed by Manuela and based on Jan Wahl's children's book.
During the past four years Manuela has been  collaborating with Concrete Timbre as a performer and composer of music in various shows in NYC.
For more information, visit www.manuelalechler.com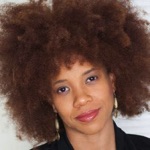 Johari Mayfield is an accomplished dancer, choreographer, movement specialist, and ACE certified personal trainer living in New York City. She began her dance training at the age of ten, eventually studying under the tutelage of acclaimed ballet dancer Sylvester Campbell, and upon graduation received a full scholarship to the prestigious Ailey School.  As a choreographer, her work has been presented at several different venues including HERE Arts Center, The Gatehouse at Aaron Davis Hall, 45 Bleecker Theater, and Dance Theatre Workshop (now New York Live Arts).  In addition to dance and choreography, Johari has authored two comic books: Wildcard, written with visual artist Teylor Smirl, and Wildlife. Wildcard was publicly presented in January 2011 as part of the Schomberg Center for Research in Black Culture's conference "The State of African American and African Diaspora Studies:  Methodology, Pedagogy, and Research." She has also conducted research on the therapeutic potential of creative movement training in treating victims of sex trafficking.  Most recently, she self published Ayana and Jamal Dance Presents, a coloring book that addresses the need for children to remember the importance of movement and healthy food choices. Johari's community outreach initiatives have included children's workshops dedicated to promoting healthy eating and exercise and work with Girls Education and Mentoring Service (GEMS), an organization committed to empowering survivors of sexual exploitation and Reveal NYC, a nonprofit organization that encourages female survivors of domestic violence in self-care and life-management by providing tools to accomplish health and independence.
Bob is a is a videographer and photographer.  A California native, he recently moved to New York after teaching elementary school for 33 years. A true Canon fan, Bob is usually seen carrying a camera  and shoots photos at lightning speed.
Bob coordinates the technical aspects of live performance projections, and works to provide contextual settings for all concrete timbre performances.  His photographs have been published in several books, publications, and internet sites.  Bob graduated from the University of California at Santa Barbara, and has an M.A. from University of San Francisco.
Bob plays blues guitar and is a fan of Jimmy Thackery and Richard Thompson.
For mor information, see www.RobertMorton.net.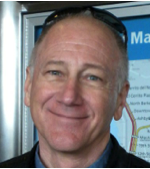 John-Paul Norpoth is a multi-instrumentalist, composer/songwriter, and producer from Brooklyn, New York. He holds a Master's Degree from Mannes College of Music in Double Bass Performance. Mr. Norpoth has played and/or recorded with diverse musicians ranging from Black Dahlia Murder & Akron/Family to Orpheus, Itzhak Perlman, and Alarm Will Sound. Mr. Norpoth is a songwriter and producer under the name Hollands. www.hollandsss.com.
Mr. Norpoth has released numerous LP's and a score of EP's of his own compositions and collaborations. With his musical partner Jannina Norpoth, Hollands are composing a new performance piece and song-cycle inspired by the story of 1001 Nights and the musical themes of Rimsky-Korsakov's Scheherazade.
Hollands, in collaboration with PubliQuartet and Amy Khoshbin, won the 2015 M-Power Scholarship Grant via the Sphinx Organization to compose and produce the Scheherazade Project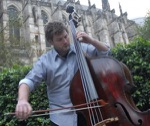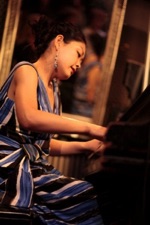 Japanese-born pianist, composer Kyoko Oyobe has been a mainstay in the New York jazz scene since 2005. She plays regularly in the area and also tours in Japan. For the past five years she has been composing and arranging for her trio with Michael O'Brien and Clifford Barbaro with whom she plays regularly in the New York area and also tours with in Japan. As her musical compositions evolved, she recently crafted a new vehicle for her prolific writing and arranging skills with The Kyoko Oyobe Quartet featuring Steve Wilson, Michael O'Brien and Matt Wilson; an open and adventurous musical collaboration that render a magical performance.
Kyoko Oyobe is a gifted artist who explores different modes of expression conveyed within a subtext of intimacy found in duets with trumpeters, like Tom Harrell and Joe Magnerelli or through original compositions inspiring and reflected in novels by the renowned Japanese novelist, Rui Kodemari.
She travels through music instilling an essence and distinct color that borrow from Be-Bop to Brazilian and Free Jazz to French-Impressionist, early 20th century voicings, yet sealing her own inimitable style.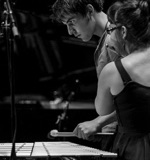 A native of Detroit, Michigan, Joe has now been working in the NYC music scene(s) for over two years as a performer, educator, audio engineer, percussion repair tech, and general musical mercenary. A multi-faceted percussionist, Joe has and/or is currently playing in a variety of contemporary and new music ensembles both as a member and featured soloist. 
As a global music proponent, Joe also plays in Gamelan Dharma Swara and Gamelan Yowana Sari, as well as playing in various jazz combos, Balkans groups, and accompanies Arabic dancers.
Joe also held a position as an accompanist in the San Francisco based modern dance company "ODC", currently accompanies for In Mixed Company. 
TLDR; Joe likes hitting things with other things A LOT.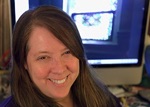 Playwright Nancy Greening's plays have been performed on 2 sides of the Atlantic & include Light Reading (Pick-Up 6 in NY International Fringe Festival), Air Born (St. Joan Theatre Co. at the Edinburgh Fringe Festival), and The Book of Names (Ensemble Studio Theatre's Octoberfest). Nancy directs many of her plays and produced In the Words of Ed Kennebeck, a tribute to the late playwright Ed Kennebeck. She is a long-time student of the playwright Stuart Spencer, author of The Playwright's Guidebook, whose workshops inspire many of her plays. Her most recent work includes a 10-minute adaptation of Oedipus the King by Sophocles entitled Edit This the King, which was performed at John Chatterton's Short Play Lab.  Nancy is a member of The Dramatists Guild and is the proud aunt of Paige and Nora.
Alejandra was born in San Francisco, CA and hasn't stayed still ever since.  After a mile-high childhood  in Denver, CO she ventured east to complete her BFA at the Hartt School and to experience seasons other than summer and winter. After a relocation back to her hometown, a brief spell in southeast Asia, and a memorable stint at an office job, she went back to school to complete her MA in the budding Theatre Lab program at the Royal Academy of Dramatic Art in London. 
During her travels Alejandra has been fortunate enough to collaborate in the creation of two theatre companies. In Denver she was a founding member of  Visionbox- a studio that strives to provide professional actor training in Colorado, and to engage the Denver community in supporting and creating art. In New York she is a proud member of the Rogue and Peasant Players -  a company rooted in the language of plays and in seeking to facilitate relationships between playwrights and actors. 
Whenever possible, Alejandra looks to marry the flavors of text with the language of movement. She loves nothing better than watching the two collide and wrestle together to create a dance of their own. She thrives in an ensemble environment, enjoys devising new work, and has a love / hate relationship with the NYT Sunday Crossword.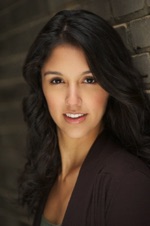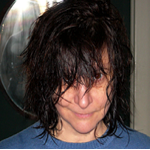 In 1999, I founded Concrete Timbre as a studio performance group to create and record new music compositions, soundscapes, sound installations, and several theatrical sound designs. In 2005 we moved out of the studio and have produced contemporary music in a theatrical setting as well as theater performances that feature music and sound including: 4 Wars, Folie Pure, Coq tôt, Satie's Birthday Party, Un Lieu de Vie, Anna Strong's Laundry, Age of Pain(e), Voices of justice and consangunity..., and Dziewczyna. Each of these interdisciplinary productions featured the talents of more than 20 artists.
As a composer and sound designer, my compositions have been performed at many (many!) innovative performance spaces in New York, Paris, Baltimore, Buffalo, California, and Florida. I've been lucky to work with some really inspiring interdisciplinary artists with a flair for the contemporary (!)
So for now, I try to keep the music great, the story interesting, the visuals stimulating, and the movement fresh - and of course, then wind them into a spectacular melange. Merde! For more information, visit www.AnnWarren.net.
As a winner of the 2013 American Protégé International Piano and Strings Competition, violinist Adam von Housen made his New York recital debut in Weill Recital Hall of Carnegie Hall in May 2013. Currently based in New York City, Adam is an Advanced Diploma candidate at CUNY Brooklyn College Conservatory of Music and is in the studio of Masao Kawasaki.   He serves as Co-Concertmaster of the Conservatory Orchestra, has served as Concertmaster of the CUNY Graduate Center's Contemporary Music Ensemble,  is a member of Brooklyn College's Contempory Ensemble "conTempo", and is a member of The Curiosity Cabinet, a contemporary music ensemble based in NYC. Adam also received his Master's Degree from Brooklyn College, where he was the recipient of the 2015 Dean's List award, awarded to one instrumentalist in the Master's degree 2015 graduating class for outstanding achievement in academics and performance, the 2015 Robert Starer Performance Award for outstanding performance of contemporary music, and the 2014 ConTempo award for outstanding performance in the ConTempo ensemble.He also performs as a section violinist with the Chelsea Symphony, with which he performed as soloist in the Dvorak Romance on the 2014-2015 season. He regularly freelances around Brooklyn, Manhattan, and Queens, and records with bands such as Art Decade.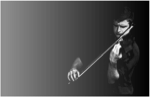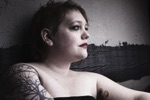 Kryssy Wright works as an electrician, carpenter, stage hand, stage manager, and designer for dance, theater, and live music productions. Groups she designs for include Third Rail Projects and Avant Media Group.
This year Kryssy will celebrate her 10th year as a resident of Brooklyn.
She has a degree from Bennington College.
an interdisciplinary concert presentation exploring Benjamin Franklin's
female identities, satires, and hoaxes that were used to critique
love, gender stereotypes, witch hunts, and the slavery of his era
(and a peek at his art and science).