Salon 3 - #2 Technology
compositions inspired by machines, the effects of non-human resources,
is it progress? a necessity? evil?
March 19, 2016 at 8:00 pm
featuring compositions for: Clarinet/Bass Clarinet, Violin, Bass, Flute, Guitar, Fixed Media, & Interactive Video
Program
Electro Acoustic
Anna Terzaroli - Dark Path #2
Dark Path #2 is an acousmatic piece of electroacoustic music. The sounds used in the piece, processed, then "composed" together to create the musical work, were recorded in a soundscape dear to author, located in the Italian region of Marche. Dark Path #2 can be defined as a journey through light, shadow, shape, color, drifts and landings.
Carlos Felipe Hernández Sarmiento - Parciales Relativos
My electroacoustic work "Partial Relative" aims to propose a different way of presenting the partials comprising musical timbres. The presentation of these partial fragments is based on Bezier paths defined by the general equation
The timing of the work took as inspiration the theory of special relativity by
Albert Einstein in which the time reference system depends on what measures it.
For this, the work was built on two temporal planes, where each plane has its time reference.
The only sound material is the 'cello note C.
Robert Fleisher - Loretto Alfresco
This brief tape piece is one of several musique concrète experiments created in my teens. Recorded under a tree on a small Wisconsin farm, the percussionist is Tom Loretto. Loretto Alfresco transforms his wholly human and largely improvised solo performance on found percussion objects into an apparent super-human (or super-natural?) duo. Premiered during the 2009 NYC Electro-Acoustic Music Festival, Loretto Alfresco has since been heard during a dozen music festivals in the USA and abroad; it is also included in the SEAMUS release, "Electroacoustic Miniatures 2012: Re-Caged," Allan Kozinn (New York Times) has written: "Loretto Alfresco is endearingly low-tech: its sounds are drawn
entirely from recordings of friend striking pots, pans and other items, which Mr. Fleisher sped up and overlaid to create a rich, tactile texture."
James MacDonald - Broken Limbs
Broken Limbs explores two things of importance to me. The first of these things is technology. I have always been attracted to technology; ever since I was a kid, I enjoyed setting up and tearing down audio and visual equipment and learning how it works. Once I began writing music I immediately began considering ways to use various types of technology to better my art. The second of these things is nature; I grew up in a small rural town in Maine near a lake. I've always enjoyed activities such as camping, canoeing, cycling, and other various outdoor activities. With this composition, I wanted to use the technology I surrounded myself with to emulate the beautiful nature I grew up with.
Robert Fleisher - Altro Alfresco
Altro Alfresco shares the same natural sound sources and minimal processing as its diminutive cousin, Loretto Alfresco. Both were created c. 1970 and waited patiently for their first public hearings. Premiered during the 2011 SEAMUS conference at the University of Miami, Altro Alfresco also features two obbligato wind parts: in the upper register, Sharon Mattlin playing soprano recorder; in the lower register, the more robust (and proximate) sounds of Mother Nature. Most recently, it was heard in the Audiograft Festival Jukeboox produced by the Sonic Arts Research Unit at Oxford Brookes University (U.K.), in live stream broadcast on AIR/EAR: Radio Alimento (Argentina), and during the Society of Composers, Inc. (SCI) region IV conference at Eastern Kentucky University.
Beatriz García Barreto - Central through Harlem
a sonic exploration of Manhattan's iconic neighborhood
Video
Robert Morton - Resinous Scent of Sap
Walking through a forest with branches overhead and the sun peaking through leaves,
I take a deep breath and feel the peacefulness.
Then I decided that I can alter the forest bliss with an interactive jitter patch.
Robert Morton - Repetition Chain
The production of an ordinary chain and the heavy metal machinary explored with live
manipulation of the light, saturation, and contrast.
Video & Sound
I. R. Marin - Techno
People vs Machines (technology, devices, etc.)
Beatriz García Barreto - Sputnik Cycles
This piece was created out of a few quotes from Sputnik Sweetheart, by Haruki Murakami.
All of the sounds, are words distorted, mostly with delay designer and reverb. Even the drum sounds were created by cropping different consonants from the speech. The only instruments in this piece are the violin and voice. The video was created independently by Bart Vodstrup and happened to match perfectly (with a few modifications) with the audio I worked on.
Solo Violin
Leonidas Sakellides - Song of Spring
Songs of Spring is an improvisatory piece in the sense that it is built around the juxtaposition of different ideas that were put down in a 'musical diary'. As the ideas progressed it became evident that the piece itself, as it was expressed by the subconscious of the composer, started to explore the idea and the application of different types of 'touches' being applied to the violin. To be more precise, the piece seemed to develop around different ways of applying pressure to the bow and the strings by using both arms. This at times resulted to a tendency and need not to produce notes but to use the notation towards the notion of a tablature, although this never occurred in the piece. At a macroscopic level, these areas of activity, using different types of sound, produce surfaces or even 'magmas' -as I prefer to call them- of different temperatures and different textures. The consistency in the piece is achieved through the juxtaposition and development of these elements.
Greg Bartholomew - Meet Me in Srinagar
Srinagar is the largest city and the summer capital of the Indian state of Jammu and Kashmir. 
Srinagar is home to one of India's premier technical institutes, The National Institute of Technology Srinagar, one of the oldest of the National Institutes of Technology that were established during second Five Year Plan.  Dedicated to Joao G. DaSilva, Douglas DaSilva, and Denise Stillwell, Meet Me in Srinagar was composed for the My Dad's Violin project and premiered
by Denise Stillwell on the Composer's Voice concert series in New York City.
Solo Bass
Richard Dubugnon - Deux évocations finlandaises
2 short bass solos from Dubugnon's Recollections of Finland: Menuet Carelien and Hamara,
inspired by a visit to Finland.
Solo Flute
Leonidas Sakellarides - Six Monologues for Solo Flute
These six short pieces were composed as a reflection to various short Ancient Greek Epigrams,
which were engraved on tombstones. The epigrams show the attitudes of the relatives of the dead or the opinions of people that have died, on life itself. The pieces make use of serial techniques and are based on the juxtaposition of different tempos, meters and characters. The mood and the meaning of the poems, as well as their actual text, often serves as a structural element on these pieces
(for example in the construction of small motivic ideas or the choice of forms). Simplicity remains a key issue on the pieces, whereas the juxtaposition of the music with the original texts of the
Epigrams (as well as their English translation) leads to a final presentation much closer to the
Greek tradition of combining logos and music.
Clarinet, Violin, Guitar
Stephanie Greig - Casino Lullaby
Based on the endless C-major arpeggio that arises from the hundreds of slot machines on any casino floor. This sound evidently makes gamblers feel luckier.
Bass Clarinet, Violin, Bass
Tom Blatt - Radar
We're almost constantly immersed in the sound of machines from background noise to an in our
face barrage of noise from construction and traffic. Perhaps this piece which is "quiet"
is a reaction to that noise.
Flute, Clarinet, Violin, Bass
Andersen Viana - Em Ré (In D)
is an experimental piece, kind of "open work " destined to any group of instruments. The form that is used in this work is the canon with 13 (thirteen) independent parts, where each structure is repeated 7 (seven) times before passing to the next one.
Bass Clarinet, Violin, Fixed Media, Video
Whitney George - Anamnesis
is a black-and-white, experimental film in three parts made by Frans Zwartjes in 1970.
A man and a woman, Trix Zwartjes and Lodewijk de Boer (Zwartjes's regular actors) circle around
each other in a house and outside at the water side. Exploring the relationship between the
two characters, aspects of both the film and the live music continue to both attract and
reject each other throughout the course of the work.
Text Based Composition
Darold Cuba - And Still We Wait
is a harsh & provocative indictment and  exposition of injustice, esp with regards to the
recent rampage of unmitigated racism seen in all forms in the western world of late.
The Drawing Room, 56 Willoughby Street, Downtown Brooklyn, NY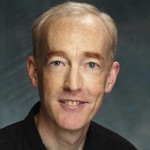 The music of award-winning American composer Greg Bartholomew is frequently performed throughout North America and in Australia and Europe. NPR classical music reviewer Tom Manoff called Bartholomew "a fine composer not afraid of accessibility."
Born in St. Paul, Minnesota, Bartholomew studied piano at Cornish College of the Arts and trombone at John Muir Elementary School before earning degrees from the College of William & Mary in Virginia and the University of Washington.
Winner of the 2013 Cheryl A. Spector Prize (for Summer Suite), the 2012 Spector Prize (for the First Suite from Razumov), the Silver Platter Repertoire Award (for The Tree), and First Place in the 2006 Orpheus Music Composition Competition (for Beneath the Apple Tree), Bartholomew was also awarded the Masterworks Prize from ERM Media in 2005 and 2006. A two-time Finalist for the American Prize in Choral Composition (2012 and 2013), Bartholomew was the 2012/2013 Composer in Residence for the Cascadian Chorale.
Recordings of his works by the Czech Philharmonic, the Kiev Philharmonic, Connecticut Choral Artists, the Ars Brunensis Chorus, the Langroise Trio, trumpeter James Ackley, and cellists Suzanne Mueller and Ovidiu Marinescu are commercially available.
For further information visit www.gregbartholomew.com
Artist Bios
Take a look at a really interesting group of artists!
Tom Blatt is a sculptor, bassist, composer, open water swimmer and lives in Brooklyn NY.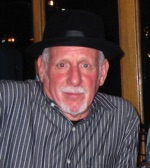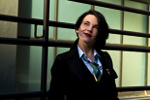 Whitney George is a composer and conductor who specializes in the use of mixed media to blur the distinctions between concert performance, installation art, and theater. Utilizing a wide variety of material including literary texts, silent film, stock footage, and visual arts, George's compositions are characterized by an immersive theatricality that thrives on collaboration in all phases of the creative process. Her affinity for the macabre, the fantastic, and the bizarre frequently gives rise to musical programs that evoke the traditions of phantasmagoria and melodrama, challenging musicians to experiment liberally with their stage personae, and audiences to widen the scope of their attention. 
She is the artistic director and conductor of The Curiosity Cabinet, a chamber orchestra formed in 2009 whose members were culled from a network of close collaborators within New York's diverse new music scene. The Cabinet's live performances often engage playfully with the prototype of the classical concert, imbuing even non-theatrical compositions with elements of drama. The ensemble has participated in the inaugural CUNY New Music Festival and was invited as the ensemble-in-residence at the Hartford Women Composers Festival in 2012.
George holds an undergraduate degree from the California Institute of the Arts, a masters degree from Brooklyn College Conservatory, and is currently continuing her studies as a PhD candidate at the CUNY Graduate Center, where she studied with David Del Tredici, David Olan, Bruce Saylor, and Tania Leon. In addition to her composing and conducting, George teaches at the Brooklyn College Conservatory, works at the Hitchcock Institute of American Studies and is the Managing Director for New York's American Modern Ensemble (AME). For more information, visit www.whitneygeorge.com.
Bob is a is a videographer and photographer.  A California native, he recently moved to New York after teaching elementary school for 33 years. A true Canon fan, Bob is usually seen carrying a camera  and shoots photos at lightning speed.
Bob coordinates the technical aspects of live performance projections, and works to provide contextual settings for all concrete timbre performances.  His photographs have been published in several books, publications, and internet sites.  Bob graduated from the University of California at Santa Barbara, and has an M.A. from University of San Francisco.
Bob plays blues guitar and is a fan of Jimmy Thackery and Richard Thompson.
For more information, see www.RobertMorton.net.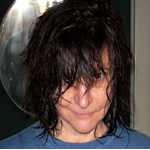 In 1999, I founded Concrete Timbre as a studio performance group to create and record new music compositions, soundscapes, sound installations, and several theatrical sound designs. In 2005 we moved out of the studio and have produced contemporary music in a theatrical setting as well as theater performances that feature music and sound including: 4 Wars, Folie Pure, Coq tôt, Satie's Birthday Party, Un Lieu de Vie, Anna Strong's Laundry, Age of Pain(e), Voices of justice and consangunity..., and Dziewczyna. Each of these interdisciplinary productions featured the talents of more than 20 artists.
As a composer and sound designer, my compositions have been performed at many (many!) innovative performance spaces in New York, Paris, Baltimore, Buffalo, California, and Florida. I've been lucky to work with some really inspiring interdisciplinary artists with a flair for the contemporary (!)
So for now, I try to keep the music great, the story interesting, the visuals stimulating, and the movement fresh - and of course, then wind them into a spectacular melange. Merde! For more information, visit www.AnnWarren.net.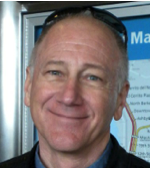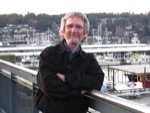 Robert Fleisher attended the High School of Music and Art in New York City, graduated with honors from the University of Colorado at Boulder, and earned his doctorate in composition at the University of Illinois at Urbana-Champaign. Author of Twenty Israeli Composers (1997), he is also a contributing composer and essayist in Theresa Sauer's Notations 21 (2009). His music is heard globally, with 70 performances and broadcasts of a dozen works in 9 countries since 2010. Dr. Fleisher has served on the music faculties of the University of Illinois at Urbana-Champaign (1978-1980), the University of California, Los Angeles (1980-1982), and Northern Illinois University (1983-2014), where he is Professor Emeritus.
For further information, please see: http://www.niu.edu/music/faculty/rfleisher.shtml.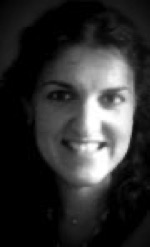 Anna Terzaroli holds a Bachelor's degree in Electronic Music from the Santa Cecilia Conservatory in Rome, where she is currently completing a Master's degree in Electronic Music. As a composer she is dedicated to contemporary acoustic and electroacoustic music.
Her musical works are selected and presented in many concerts and festivals in Italy and abroad (CIM - Rome, ICSC - St. Petersburg, SMC - Maynooth, di_stanze - Padua, ICMC - Denton, NYCEMF - New York and others). Since 2009 she collaborates at the EMUfest (Electroacoustic Music Festival of Santa Cecilia Conservatory).
She is a member of the AIMI (Italian Computer Music Association ) board.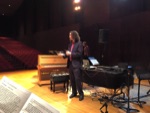 James MacDonald is a composer based in Columbus, Ohio. His works have been performed on the composer's workshop recitals at The Ohio State University, the Capital University NOW Festival, Capital University Honors Recital Hour, and recitals of his own. He is currently pursuing a master's of music degree at The Ohio State University, where he studies composition and computer music with Dr. Thomas Wells. He received his Bachelor's in Music from Capital University, where he studied under Tony Zilincik, Dr. Dina Lentsner, Dr. Rocky Reuter, Stan Smith, and Dr. Vera Stanojevic.
Carlos Felipe Hernández Sarmiento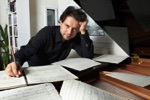 Richard Dubugnon was born in Lausanne (Switzerland) and has both Swiss and French nationalities. He started music at the age of 20, after reading History in Montpellier (France) and was accepted in 1992 at the Paris Conservatoire, where he graduated in Double Bass, Counterpoint and Fugue. Richard studied Composition at the Royal Academy of Music in London with Paul Patterson, from which he graduated in 1997 with a DipRAM and a Mmus degree, before becoming a Composition Fellow in 1998. When he returned to France in 2002, he became the recipient of the Pierre Cardin Prize from the Académie des Beaux Arts in Paris.
Qualified as "driven by a playful modern sensibility" by the New York Times, Richard's music is championed by prestigious conductors such as Esa-Pekka Salonen, Semyon Bychkov, Paavo Järvi, Kent Nagano, Lionel Bringuier, Alain Altinoglu as well as by soloists such as Janine Jansen, Katia & Marielle Labèque, Renaud & Gauthier Capuçon, Julian Rachlin, Itamar Golan, Jean-Yves Thibaudet, among others.
In 2014 he received the Swiss Prix Culturel Vaudois for his contribution in Music. For more information visit www.RichardDubugnon.com.
The daughter of Las Vegas bassist Kenny Greig, Stephanie grew up listening to live music, from the musicians' union rehearsal bands playing Count Basie and Duke Ellington charts to the eclectic mix of music in the hotels on the Las Vegas Strip. At age fourteen, she was playing guitar in her father's pop quartet and in blues, funk and rock groups with her peers. With a lifelong love for the great Broadway composers, she devoted herself to learning the Great American Songbook. She studied composition at Smith College, focusing on the intersection of music and theater, particularly the Brecht-Weill collaborations. After a few years acting in small theaters, she acquired an upright bass and began playing in jazz groups in New York. She has played with bands in a variety of settings all over the New York area as well as Spain, Japan and Curacao. She is currently double bass principal in the Brooklyn Symphony Orchestra.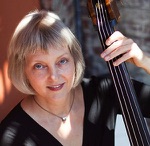 Leonidas Sakellarides was born in Rhodes, Greece. He is a graduate of the University of Hull (UK), holding the Degrees of Bachelor of Music, Master of Music (musical composition) and PhD of Music (musical composition). He also has a diploma in violin teaching and in advanced theoretical studies of music by the Greek Conservatory and a diploma in classical singing by the Classical conservatory of Greece. His professional experience involves teaching, conducting, composing and performing. He teaches music at various primary schools in Greece since 2006. He is also active as a private teacher and member of the teaching staff of the Music school of the Dodecanease, where he teaches advanced theory and counterpoint, orchestration and composition, as well as violin and singing.
As a performer (tenor singer) he frequently performs as a solo recitalist in various cities in Greece (Athens, Sparta, Rhodes, Salonica) as well as abroad (Turkey, Cyprus, England, Egypt). He is also the founder and conductor of Rhodes Camerata orchestra and the Xeni Emner student music ensemble as well as an assistant director of the Rhodes Children's Choir and the Experimental choir of the municipality of Rhodes.
As a composer, Leonidas Sakellarides has written a number of works that have received performances in Greece, Bulgaria, the UK and the US. Some notable performances include the BBC Philharmonic premiere of his Return to Ithaki in 2001 as well as the performances of the Epigrams at the 2005 and 2006 electroacoustic music conference in Corfu, the six monologues for solo flute at the 2009 composers – performer's conference at St. Catherin's school in Athens and the 2015 participation at the electroacoustic festival of the National Center of Music Research (KSYME).
His music has been published by Nakas publications and York University press publications.
John-Paul Norpoth is a multi-instrumentalist, composer/songwriter, and producer from Brooklyn, New York. He holds a Master's Degree from Mannes College of Music in Double Bass Performance. Mr. Norpoth has played and/or recorded with diverse musicians ranging from Black Dahlia Murder & Akron/Family to Orpheus, Itzhak Perlman, and Alarm Will Sound. Mr. Norpoth is a songwriter and producer under the name Hollands. www.hollandsss.com.
Mr. Norpoth has released numerous LP's and a score of EP's of his own compositions and collaborations. With his musical partner Jannina Norpoth, Hollands are composing a new performance piece and song-cycle inspired by the story of 1001 Nights and the musical themes of Rimsky-Korsakov's Scheherazade.
Hollands, in collaboration with PubliQuartet and Amy Khoshbin, won the 2015 M-Power Scholarship Grant via the Sphinx Organization to compose and produce the Scheherazade Project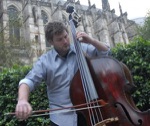 Mara Mayer is a clarinetist/bass clarinetist, yoga instructor, pole dancer, and animal lover. She curates a monthly series of experimental music and art called Home Audio. Mara has been living in Brooklyn for about six years. Prior to that she was in Costa Rica studying capuchin monkeys; before that she was in Rochester, NY, where she earned degrees in music performance from the Eastman School of Music and Cognitive Science from the U of R. She's played music at some fancy venues and in lots of smaller venues, bars, and peoples' apartments. The latter are usually her favorite. She is excited to perform new music by new composers for you tonight! 
As a winner of the 2013 American Protégé International Piano and Strings Competition, violinist Adam von Housen made his New York recital debut in Weill Recital Hall of Carnegie Hall in May 2013. Currently based in New York City, Adam is an Advanced Diploma candidate at CUNY Brooklyn College Conservatory of Music and is in the studio of Masao Kawasaki.   He serves as Co-Concertmaster of the Conservatory Orchestra, has served as Concertmaster of the CUNY Graduate Center's Contemporary Music Ensemble,  is a member of Brooklyn College's Contempory Ensemble "conTempo", and is a member of The Curiosity Cabinet, a contemporary music ensemble based in NYC. Adam also received his Master's Degree from Brooklyn College, where he was the recipient of the 2015 Dean's List award, awarded to one instrumentalist in the Master's degree 2015 graduating class for outstanding achievement in academics and performance, the 2015 Robert Starer Performance Award for outstanding performance of contemporary music, and the 2014 ConTempo award for outstanding performance in the ConTempo ensemble.He also performs as a section violinist with the Chelsea Symphony, with which he performed as soloist in the Dvorak Romance on the 2014-2015 season. He regularly freelances around Brooklyn, Manhattan, and Queens, and records with bands such as Art Decade.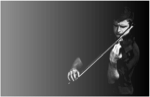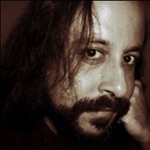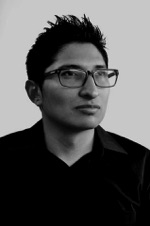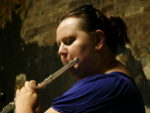 Aleksandra Miglowiec graduated with a Master's degree in flute instrumental studies and pedagogy from the Grazyna and Kiejstut Bacewicz Academy of Music in Lodz, Poland under the direction of Professor ZW. Antoni Wierzbiński.
In Poland, she played in the Youth Rock Symphony Orchestra, the Ladies First Symphony Orchestra, and various chamber groups. Currently she resides in Connecticut, where she provides flute lessons, plays the piccolo with the Connecticut Valley Chamber Orchestra, folk tunes on the flute with the Birch Creek Band, and (yet again) various chamber groups.
Aleks takes every opportunity she can to drive down to the city and create music with concrete timbre, and secretly wants to move to the city someday to be surrounded by expressive creativity.
Visit her site at:  http://www.reverbnation.com/birchcreekband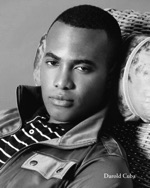 After almost two decades of stinting with think tank after non-profit, politician after academic researcher, Darold is a recovering tech, media & policy analyst, a #GeekNerdWonk now stretching creative muscles and creating authentic stories after being dismayed for too long at the horrendously erasing & barbaric revisionist nature of the Western mainstream media.  Long interested in exploring, researching, & telling stories not told by the mainstream, and unpacking the why, what & how of such, Darold has dedicated his life to doing just that, beginning with his own gigantic and multicultural family's many diverse stories, lifted straight from real life & history.
Past work includes: The Brothers Keppard - the story of the creole brothers, jazz legends credited by Guggenheim Fellow musicologist Lawrence "Larry" Gushee with bringing the mesmerizing "sound of New Orleans" "to the world." The Families Of Asheville - tracing the Native Indigenous AmerIndian, African & European origins of his 118 year old maternal Baird Family Reunion in NC, in part with DNA testing of each ethnicity to follow the genetic stories of each intertwined culture making up one big historical city of interlocking ancient families. BOYS-BROS-GUYS-MEN - the #YouCantMakeThisSh*t up saga of his life, beginning particularly with a best friend's childhood suicide at age 11 that he promptly repressed for the next 20 years. Cuba Hill - the centuries old family farm of his paternal East Texas creole family, its storied existence & the efforts of the millennial generation of the family to turn it into a dude ranch with commercial marijuana production, sparking an almost fraud between the old guard & the new guard. Graham Court - the storied saga of the oldest luxury building above Central Park, built by an Astor and inspired by the Housing Crash of 1907 & the  Depression to anchor the beginnings of the Civil Rights Movement in Harlem, NYC. And, The Adventures of Dara And Drew - a children's book documenting the wildly lovable childhood adventures of his niece (age 3) & nephew (age 1).
You REALLY can't make any of this stuff up.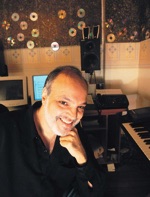 Andersen Viana is a composer, music producer and a professor at Fundação Clóvis Salgado –Palácio das Artes in Belo Horizonte-Brazil. Andersen has started his music activities as composer at 13 years and as a professor as 19 years old.  He has a Ph.D in Music Composition by Federal University of Bahia and lately he furthered his studies in other institutions in Brazil, Italy and Sweden such as Federal University of Minas Gerais, Reale Accademia Filarmonica di Bologna, Arts Academy of Rome, Accademia Chigiana di Siena and Royal University College of Music in Stockholm. He has received 26 composition awards in Argentina, Belgium, Brazil, France, Germany, Italy, Spain and the USA. Up to the present he has composed 360 musical pieces for chamber, orchestra, choral, various ensembles and electronic instruments. He has also organised and conducted/directed various vocal and instrumental ensembles such as: "Orquestra Experimental" (1983), "Septheto Rio" (1986), "Coro Pedagógico da FEBEM" (1991), "Coro do Centro de Estudos da Embaixada do Brasil em Roma" (1993), "Coro da Cultura Inglesa BH" (1994), "Trio Barroco" (1994), "Orchestra Virtual" (1995), "Estocolmo Nonet" (1996), "The Duo" (1997), "Coro da SMRU", "Camerata Primavera" (2003), "A Cigarra e a Orquestra" (2006-2008),  the "Coral IOCHPE MAXION"(2009) and the "Coral Sebastião Vianna"(2014). He has music edited, CD's, DVD's, books and developed diverse musical projects in countries other than Brazil such as: Argentina, Belgium, Bulgaria, USA, France, Germany, Greece, Honduras, Italy, Netherlands, Portugal, Spain, The United Kingdom, the Czech Republic, Russia and Sweden. Site: Home - Cinemusic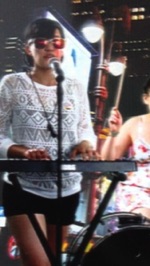 Beatriz was born in Mexico City during the late 80's. She was very young when she started playing the piano, and later learned to play on the marimba. She was the former keyboard and harmonies in Albus Anima (a Mexican symphonic metal band).
In 2012, she finished her degree in Communications and focused on audiovisual arts, being mostly interested in photography and audio effects for videos and films.
In 2014 she moved to New York to take some courses to help her develop new abilities in her areas of interest. 
After enrolling in Juilliard's Evening Division, she took Milica Paranosic's Music Technology class and became interested in working in a deeper way with electronic sound creation.
Beatriz composed for Concrete Timbre's productions of Last Saturdays Salons and 4 Wars.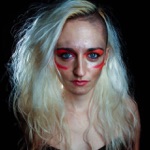 Clarinet/Bass Clarinet - Mara Mayer
Violin - Adam von Housen
Bass - John-Paul Norpoth
Guitar - Stephanie Greig
Flute - Aleksandra Miglowiec
Actor - Darold Cuba
Electronics - Ann Warren
Interactive Video - Robert Morton

First place in the piano competition of the Conservatory Jose Maria Rodriguez (2009), Vox Novus Prize in musical composition, California (2015), winner of the competitive funds (2015-2016) Dirección de cultura Cuenca-Ecuador category artistic creation, shares at various festivals and competitions among which are: III International Classical Music Competition "Young Talents" Thirty-first classical concert of youth, Ecuadorian German Cultural Center, Second Congress of Musicology in music education "IV National Competition" Young Pianists ".
He has received composition classes with teachers José Urgilés, Jose Luna, Jorge Triana, Maiguashca Messiah, Juan Campoverde, Erik Spangler, Flannery Cunningham. Currently he performed graduate studies in music composition in Buenos Aires and teaches at the conservatory Jose Maria Rodriguez. His compositions are distributed in 27 catalogs with a total of 182 works to date.