Salon 3 - #6 Justice
compositions inspired by ideas concerning revenge, restitution, reason,
liability, fairness, and judgment
October 15, 2016
featuring compositions for: Jazz Ensemble
The Drawing Room
Piano - Kyoko Oyobe
Bass - John-Paul Norpoth
Drums - Jon Wert
Trumpet - Hugh Ash
Alto Sax - Manuela Lechler
Baritone Sax - John Fio
Artist Bios
Take a look at a really interesting group of artists!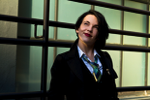 Whitney George is a composer and conductor who specializes in the use of mixed media to blur the distinctions between concert performance, installation art, and theater. Utilizing a wide variety of material including literary texts, silent film, stock footage, and visual arts, George's compositions are characterized by an immersive theatricality that thrives on collaboration in all phases of the creative process. Her affinity for the macabre, the fantastic, and the bizarre frequently gives rise to musical programs that evoke the traditions of phantasmagoria and melodrama, challenging musicians to experiment liberally with their stage personae, and audiences to widen the scope of their attention. 
She is the artistic director and conductor of The Curiosity Cabinet, a chamber orchestra formed in 2009 whose members were culled from a network of close collaborators within New York's diverse new music scene. The Cabinet's live performances often engage playfully with the prototype of the classical concert, imbuing even non-theatrical compositions with elements of drama. The ensemble has participated in the inaugural CUNY New Music Festival and was invited as the ensemble-in-residence at the Hartford Women Composers Festival in 2012.
George holds an undergraduate degree from the California Institute of the Arts, a masters degree from Brooklyn College Conservatory, and is currently continuing her studies as a PhD candidate at the CUNY Graduate Center, where she studied with David Del Tredici, David Olan, Bruce Saylor, and Tania Leon. In addition to her composing and conducting, George teaches at the Brooklyn College Conservatory, works at the Hitchcock Institute of American Studies and is the Managing Director for New York's American Modern Ensemble (AME). For more information, visit www.whitneygeorge.com.
Tom Blatt is a sculptor, bassist, composer, open water swimmer and lives in Brooklyn NY.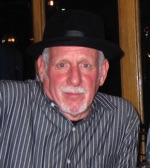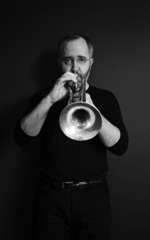 The daughter of Las Vegas bassist Kenny Greig, Stephanie grew up listening to live music, from the musicians' union rehearsal bands playing Count Basie and Duke Ellington charts to the eclectic mix of music in the hotels on the Las Vegas Strip. At age fourteen, she was playing guitar in her father's pop quartet and in blues, funk and rock groups with her peers. With a lifelong love for the great Broadway composers, she devoted herself to learning the Great American Songbook. She studied composition at Smith College, focusing on the intersection of music and theater, particularly the Brecht-Weill collaborations. After a few years acting in small theaters, she acquired an upright bass and began playing in jazz groups in New York. She has played with bands in a variety of settings all over the New York area as well as Spain, Japan and Curacao. She is currently double bass principal in the Brooklyn Symphony Orchestra.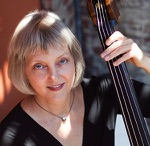 Hugh Ash has taken his trumpet around the globe, performing everything from contemporary classical to standard repertoire, jazz, rock, and world music.
Based in Brooklyn, Hugh is a versatile musician and active free-lancer, currently playing with The Curiosity Cabinet and the Metropolitan Brass Quintet as well as with various local orchestras and opera companies. A lover of contemporary classical music, Hugh actively champions work by living composers, performing premieres by Philippe Manoury, Larry Sitsky, and David Maslanka among others.
Hugh received his bachelor's degree in Classical Music and Anthropology from Ithaca College and studied Jazz/Commercial music at The State University of New York at Purchase College, and has studied with such notable trumpet players as Ray Vega, Jon Faddis, Graham Ashton, Vince Penzarella, Kim Dunnick and Vince DiMartino.
Prior to settling in New York City, he performed around the world for a number of years with Royal Caribbean Cruise Lines.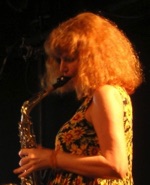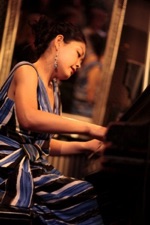 Japanese-born pianist, composer Kyoko Oyobe has been a mainstay in the New York jazz scene since 2005. She plays regularly in the area and also tours in Japan. For the past five years she has been composing and arranging for her trio with Michael O'Brien and Clifford Barbaro with whom she plays regularly in the New York area and also tours with in Japan. As her musical compositions evolved, she recently crafted a new vehicle for her prolific writing and arranging skills with The Kyoko Oyobe Quartet featuring Steve Wilson, Michael O'Brien and Matt Wilson; an open and adventurous musical collaboration that render a magical performance.
Kyoko Oyobe is a gifted artist who explores different modes of expression conveyed within a subtext of intimacy found in duets with trumpeters, like Tom Harrell and Joe Magnerelli or through original compositions inspiring and reflected in novels by the renowned Japanese novelist, Rui Kodemari.
She travels through music instilling an essence and distinct color that borrow from Be-Bop to Brazilian and Free Jazz to French-Impressionist, early 20th century voicings, yet sealing her own inimitable style.
Manuela Lechler (Composer, Saxophonist) has graduated from Steiner School in Stuttgart, Academy for Visual Arts in Stuttgart, Germany and Queens Conservatory of Music, NY, in Jazz Saxophone. She has been performing and recording music over many years in Europe and America and with various bands.
Besides with her own duo/trio, she has worked with Combo Azul, Bananas Sanfonicas, Open Music Ensemble, Concrete Timbre, among others. Her repertory includes her original compositions, Jazz Standards, Brazilian, Contemporary, Free Improvised music and more. Other collaborations include shows such as: Helfrid Foron & K. Schwitters Der Zusammenstoss with theTuebinger Zimmertheater in Germany, and Cabbage Moon, a musical fairytale composed by Manuela and based on Jan Wahl's children's book.
During the past four years Manuela has been  collaborating with Concrete Timbre as a performer and composer of music in various shows in NYC.
For more information, visit www.manuelalechler.com
DAN COOPER ("especially fascinating" -American Record Guide) was born and raised in Manhattan, and educated at Columbia, NEC, and Princeton. The recipient of an Aaron Copland fellowship to Tanglewood, he has received awards, commissions, residencies, and premieres from Absolute Ensemble, Albany Symphony, Albany Records, ASCAP, Artists International, B3+, Cary Trust, Circadia, Electro-Music, ESYO, Engine 27, Femmes Four, Fontainebleau, Imani Winds, ISC, June in Buffalo, Lumina String Quartet, Majestic Brass, Meet the Composer, NARAS, NEA, NEC, NJSO, NYNME, NYYS, North River Music, Norwalk Youth Symphony, Palisades Virtuosi, Scotia Festival, ACO / Sonic Festival, Sweet Plantain, Vox Novus 60x60, Walter W. Naumburg Fund, and Zentripetal Duo, among others. As a multi-instrumentalist, he has performed at venues including Anadolu Auditorium Istanbul, Berlin Philharmonic Hall, Bunkamura Orchard Hall, Casino de Paris, CBGB, Chicago Theater, Davies Hall, Irving Plaza, Joe's Pub, Jordan Hall, Koseinenkin Hall Osaka, LPR, Massey Hall, Rockefeller Center, Royal Albert Hall, Sydney Opera House, Teatro Grand Rex Buenos Aires, The American Airlines (Selwyn) Theatre, The American Museum of Natural History, The Blue Note, and Town Hall, among others, plus broadcasts on NBC, BBC, Radio France, Bravo, and RAI. Cooper is a music professor at SUNY-FIT, and a co-director of Composers Concordance.
John Fio is a games composer and ex-drummer from New Jersey.
You can hear his recordings at audiosprite.com.
Scott Hoefling is a music educator, performer and composer.  Educated at the University of Miami in Coral Gables and the University of Massachusetts at Amherst, Mr. Hoefling has studied with Gary Keller, David Pope, Angela Space, Gary Green, Lynn Klock, and Lanfranco Marcelletti.  Mr. Hoefling performs regularly with Barbaric Yawp in and around New York.
John-Paul Norpoth is a multi-instrumentalist, composer/songwriter, and producer from Brooklyn, New York. He holds a Master's Degree from Mannes College of Music in Double Bass Performance. Mr. Norpoth has played and/or recorded with diverse musicians ranging from Black Dahlia Murder & Akron/Family to Orpheus, Itzhak Perlman, and Alarm Will Sound. Mr. Norpoth is a songwriter and producer under the name Hollands. www.hollandsss.com.
Mr. Norpoth has released numerous LP's and a score of EP's of his own compositions and collaborations. With his musical partner Jannina Norpoth, Hollands are composing a new performance piece and song-cycle inspired by the story of 1001 Nights and the musical themes of Rimsky-Korsakov's Scheherazade.
Hollands, in collaboration with PubliQuartet and Amy Khoshbin, won the 2015 M-Power Scholarship Grant via the Sphinx Organization to compose and produce the Scheherazade Project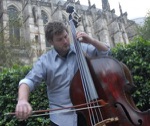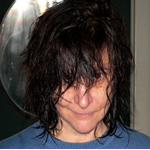 In 1999, I founded Concrete Timbre as a studio performance group to create and record new music compositions, soundscapes, sound installations, and several theatrical sound designs. In 2005 we moved out of the studio and have produced contemporary music in a theatrical setting as well as theater performances that feature music and sound including: 4 Wars, Folie Pure, Coq tôt, Satie's Birthday Party, Un Lieu de Vie, Anna Strong's Laundry, Age of Pain(e), Voices of justice and consangunity..., and Dziewczyna. Each of these interdisciplinary productions featured the talents of more than 20 artists.
As a composer and sound designer, my compositions have been performed at many (many!) innovative performance spaces in New York, Paris, Baltimore, Buffalo, California, and Florida. I've been lucky to work with some really inspiring interdisciplinary artists with a flair for the contemporary (!)
So for now, I try to keep the music great, the story interesting, the visuals stimulating, and the movement fresh - and of course, then wind them into a spectacular melange. Merde! For more information, visit www.AnnWarren.net.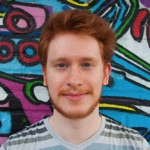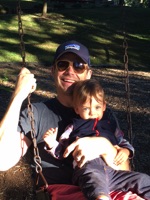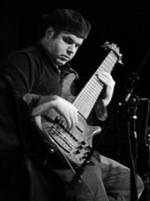 Program
Piano, Bass, Drums
Kyoko Oyobe - A Soul Connecrtion
We can always connect thorough our souls even though our bodies are gone.
I wrote this tune thinking of my younger sister Miyoko who passed away last October.
Piano, Bass, Drums,Trumpet, Alto Sax
Kyoko Oyobe - Not Yet
There is something look for or looking forward to when I say or hear this
word "Not Yet".  I put my feeling of "Not Yet" into this tune.
Dan Cooper - Bronze Bossa
Bronze Bossa was inspired by the Rio 2016 summer olympics.
The composition includes elements of Bossa Nova as well as Forró music,
plus a variety of modes not particularly associated with Brazil.
Premiered last month at William Paterson University, on a program celebrating
the 70th birthday of the great accordionist-composer Bill Schimmel,
Bronze Bossa will be heard by Concrete Timbre in a new transcription for jazz quintet.
Scott Hoefling - Free Man
Joni Mitchell composed Free Man in Paris in 1973 while traveling in Paris with
David Geffen and Robbie and Dominique Robertson. While Geffen is never mentioned by name, Mitchell describes how he works hard creating hits and launching careers b
t can find some peace while vacationing in Paris. Mitchell sings, "I was a free man in Paris. I felt unfettered and alive. Nobody calling me up for favors. No one's future to decide."
Joni Mitchell is well known for inspiring social change in many of her songs,
and is included on this program for her dedication to social justice.
Sex Kills is a beautiful example of Mitchell's inspiring lyrics:
I pulled up behind a Cadillac
We were waiting for the light
And I took a look at his license plate
It said "Just Ice"
Is justice just ice?
Governed by greed and lust?
Just the strong doing what they can
And the weak suffering what they must?
And the gas leaks
And the oil spills
And sex sells everything
And sex kills
Sex kills
Piano, Bass, Drums,Trumpet, Alto Sax, Baritone Sax
Tom Blatt - Event Horizon
It's Justice yes?
Could we say something like it's justice for the viola at last?
Stephanie Greig - Palmyra
Palmyra was written for an ancient abandoned city in Syria - a world treasure, oasis and
crossroads of cultures so well preserved that when looking at photographs of the
empty streets and temples, I could hear music. ISIS occupied Palmyra last year and began
blowing up the temples as if to erase the evidence - thus the idea - of many religions
coexisting peacefully. The city has been reclaimed now and volunteers are 3-D modeling
the destroyed temples as a way to begin to repair this injustice to human history.
Stephanie Greig - Little Foxes
Little Foxes could be music for a scene from an early 60's suspense film where
glamorous jewel thieves hide in an Italian ski lodge and flirt with strangers
under false identities, hoping to escape - what else? - justice!
Bass, Drums,Trumpet
Whitney George- Parade
Parade is one of the few "jazz" charts in my portfolio (or, works for chamber ensemble
that leave room for internal improvisation). Originally written to accompany a scene from
Concrete Timbre's interdisciplinary production of Un Lieu de Vie, the music was
meant to accompany a magic spectacle, evoking the joy and jubilance of a parade
for an outdoor celebration. Parades, as we celebrate them, are often about celebrating
an injustice that has been resolved, or by drawing attention to the injustices that still are,
linking Parade to our theme of Justice for this Saturday Salon. 
Piano, Bass, Drums, Trumpet, Baritone Sax
Ann Warren - 3 Generations of Imbeciles (are Enough)
The longest program note that I've ever written - please bear with me!
In 1924 Virginia statute authorized compulsory sterilization of intellectually disabled
for the purpose of eugenics. Shortly thereafter, Dr. John Bell represented the
Virginia State Colony for Epileptics and Feebleminded when it filed a petition
to sterilize Carrie Buck, an 18-year-old patient at his institution who he claimed
had a mental age of 9, maintaining that she represented a genetic threat to society and
claiming that Carrie's 52-year-old mother possessed a mental age of 8
and had a record of prostitution and immorality.
Carrie had been adopted and attended school for five years,
reaching the level of sixth grade, when she gave birth to an illegitimate child, Vivian.
Her adopted family committed her to the State Colony as "incorrigible"
and "feeble-minded" stating that it was no longer feeling capable of caring for h
r. It was later discovered that Carrie's pregnancy was not caused by any "immorality"
on her own part. In the summer of 1923, her adoptive mother's nephew raped Carrie,
and her commitment has been seen as an attempt by the family to save their reputation.
The case made it to the U.S. Supreme Court where Justice Oliver Wendell Holmes, Jr.
In support of his argument that the interest of public welfare outweighed the interest
of individuals in their bodily integrity, stating "We have seen more than once that the
public welfare may call upon the best citizens for their lives. It would be strange if it
could not call upon those who already sap the strength of the State for these
lesser sacrifices, often not felt to be such by those concerned, to prevent our being
swamped with incompetence. It is better for all the world, if instead of waiting to
execute degenerate offspring for crime, or to let them starve for their imbecility,
society can prevent those who are manifestly unfit from continuing their kind.
The principle that sustains compulsory vaccination is broad enough t
cover cutting the Fallopian tubes."
Holmes declared that,
"Three generations of imbeciles are enough."
Carrie Buck received a tubal ligation and was later paroled from the institution
as a domestic worker to a family in Bland, Virginia. She was an avid reader
until her death in 1983. Her daughter Vivian had been pronounced "feeble minded"
after a cursory examination stating that she "showed backwardness"
thus the "three generations" of the majority opinion.
Vivian did very well in school for the two years that she attended
(she died of complications from measles in 1932),
even being listed on her school's honor roll in April 1931.
Kyoko Oyobe - The Third Eye
One night, I had a weird dream about the third eye.
After I woke up, I felt the third eye was still around me.
I was filled with a mysterious mood for a while. Suddenly, a melody walked in my mind.
I picked up the melody through the third eye.
Piano, Bass,Trumpet, Alto Sax
Manuela Lechler - Ma-at
Our symbolism of Lady Justice holding a balanced set of scales in her left hand
goes as far back as to Ancient Egypt: The Netr/goddess Ma-at, wearing a feather
on her head, represents Cosmic order, harmony, balance and justice.
In the beyond we are only justified, when our heart weighed against the feather
results balanced in light-ness. This music dedicated to "Ma-at" is hopefully a
balanced arrangement for jazz 4-tet based on two of my compositions, 
Vol de Nuit here representing lightness, and Strings of the Earth, representing the heart.
Piano, Bass,Trumpet
Kyoko Oyobe - Rain in the Morning
It was raining when I went outside from a jazz club which is in the basement
after an all night jam session. The air in the outside was very fresh, quiet in a way.
I felt like I came to a new world and this melody came to in my mind.
The Drawing Room, 56 Willoughby Street, Downtown Brooklyn, NY
Jon Wert has been a staple of the NYC music scene for the past 8 years since relocating from Kalamazoo, Michigan, where he studied jazz performance at Western Michigan University under the instruction of drumming legend Billy Hart.
Jon performs frequently around town with a wide variety of musical projects and genres, from folky singer/songwriters to early jazz dance bands, from classic country to top 40 pop, from free improvised music to punk rock.
Lately he has been recording and touring extensively with:
MAMA JUKE (www.mamajukemusic.com)
and
The Stumblebum Brass Band (www.stumblebumbrassband.com),
among many others.