Salon 3 - #5 Trade
compositions inspired by ideas about trade
(e.g drugs, water, diamonds, food, nuclear materials, and arms etc.)
September 17, 2016
featuring compositions for: Piano, Violin, Bass
with guest performances: Alto Sax, Flute
Program
Piano, Violin, Bass Trio
Leonidas Sakellarides - Travelling Along the Silk Road
An imaginary trip along the silk road that was one of the ancient paths that merchants followed
in order to trade their goods (especially silk) and extended from Europe to China.
The silk road trade was a major factor in the development and collaboration among many ancient civilizations such as the Greeks, the Arabs, the Turks, the Persians and the Chinese.
In an age where trade rules and ethics are in question by many people one can envision
the real benefits of trade and the ways that it can be 'reinvented' as a means of bringing
civilizations and nations closer, as well as contribute to the exchange of fruitful ideas and
needed goods. In hope of a more fair system of trade and anticipating the feelings
of the merchant of the ancient times, let us travel along the silk road of trade.
Whitney George - Circumstance
Inspired by a letter to the Federal Gazette written by Benjamin Franklin
protesting the arguments of American slave trade in the 18th century.
Violin & Bass Duet
Ann Warren - Industry, Frugality, Fertility, & Skill in Economy
Inspired by The Speech of Miss Polly Baker written by Benjamin Franklin.
Polly gives a speech before a Court of Judicature in Connecticut where she is being
prosecuted the fifth time, for having a bastard child. There is a trade off.
What must poor young women do?
Custom forbids them to solicit the men. They cannot force themselves upon husbands.
Yet, laws severely punish them if they do their duty without husbands.
Violin Solos
Girolamo Deraco - Time Flies
Nowadays time is begun to be a "trade".
Often people don't have time for leaving their life. Having time is a luxury.
As a result the time flies far from our life.
Whitney George - Masochist's Tango
The Masochist's Tango, for solo violin, is divided into three movements suggestively subtitled READY, WILLING, and ABLE.
The work explores the passionate affair between the performer and his violin:
it's a negotiation and conversation between the two dynamic forces,
where one voice is not able to speak without the other. Each tries to control the other,
constantly trading places with who is dominant, and who is subservient.
Piano, Violin, Bass & Alto Sax
Manuela Lechler - Strings of the Earth
Trade has overtaken the planet. Indigenous peoples are in extinction. Wild animals are endangered, their habitat destroyed. Exploitation is equaled with progress. Destruction of life is our daily news.
This is a song for the beautiful Earth, our home. It was inspired by a painting of the same title by the great painter, Nicholas Roerich, who traveled extensively in Central Asia, and listened to the music of the Himalayas.
Tom Blatt - For 3 or More Instruments
TRADE We shook hands as we made the trade: exchange, transaction, swap, trade-off.
          ORIGIN late Middle English (as a noun): from Middle Low German, literally 'track';
related to tread. Early senses included course, way of life,' which gave rise in the
16th cent. to 'habitual practice of an occupation,''skilled handicraft.            
           This piece involves (hopefully) the "trade" of musical ideas. This series of pieces "For 3 or More Instruments' I've worked on and off on for over 20 years and came about partly over my discussion with the \composer John Adams about my music.
Here i'm trading on the name recognition of John Adams to advance my cause.
Fiction
Leland Cheuk - Letters from Dinosaurs
Letters from Dinosaurs is the new story collection from Leland Cheuk.
In 11 stories that range from the heartfelt to the satirical, the book is a fresh,
complicated portrayal of American Asian lives, exposing the fissures in families
friends and lovers created by race, class and culture.
Solo Flute
Ann Warren - Trading Trinkets
It's that time of the year to trade the trikets in your closet.
Ann Warren - Why Do Diamonds Cost More than Water?
Scarcity vs Life, it's a puzzle.
The Drawing Room, 56 Willoughby Street, Downtown Brooklyn, NY
Piano - Kristin Samadi
Violin - Adam von Housen
Bass - John-Paul Norpoth
with special guest performers
Alto Sax - Manuela Lechler
Flute - Aleksandra Miglowiec
Author - Leland Cheuk
Artist Bios
Take a look at a really interesting group of artists!
Tom Blatt is a sculptor, bassist, composer, open water swimmer and lives in Brooklyn NY.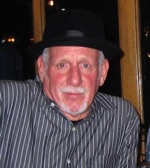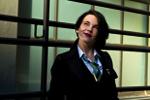 Whitney George is a composer and conductor who specializes in the use of mixed media to blur the distinctions between concert performance, installation art, and theater. Utilizing a wide variety of material including literary texts, silent film, stock footage, and visual arts, George's compositions are characterized by an immersive theatricality that thrives on collaboration in all phases of the creative process. Her affinity for the macabre, the fantastic, and the bizarre frequently gives rise to musical programs that evoke the traditions of phantasmagoria and melodrama, challenging musicians to experiment liberally with their stage personae, and audiences to widen the scope of their attention. 
She is the artistic director and conductor of The Curiosity Cabinet, a chamber orchestra formed in 2009 whose members were culled from a network of close collaborators within New York's diverse new music scene. The Cabinet's live performances often engage playfully with the prototype of the classical concert, imbuing even non-theatrical compositions with elements of drama. The ensemble has participated in the inaugural CUNY New Music Festival and was invited as the ensemble-in-residence at the Hartford Women Composers Festival in 2012.
George holds an undergraduate degree from the California Institute of the Arts, a masters degree from Brooklyn College Conservatory, and is currently continuing her studies as a PhD candidate at the CUNY Graduate Center, where she studied with David Del Tredici, David Olan, Bruce Saylor, and Tania Leon. In addition to her composing and conducting, George teaches at the Brooklyn College Conservatory, works at the Hitchcock Institute of American Studies and is the Managing Director for New York's American Modern Ensemble (AME). For more information, visit www.whitneygeorge.com.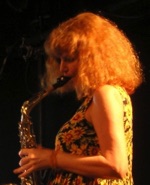 Manuela Lechler (Composer, Saxophonist) has graduated from Steiner School in Stuttgart, Academy for Visual Arts in Stuttgart, Germany and Queens Conservatory of Music, NY, in Jazz Saxophone. She has been performing and recording music over many years in Europe and America and with various bands.
Besides with her own duo/trio, she has worked with Combo Azul, Bananas Sanfonicas, Open Music Ensemble, Concrete Timbre, among others. Her repertory includes her original compositions, Jazz Standards, Brazilian, Contemporary, Free Improvised music and more. Other collaborations include shows such as: Helfrid Foron & K. Schwitters Der Zusammenstoss with theTuebinger Zimmertheater in Germany, and Cabbage Moon, a musical fairytale composed by Manuela and based on Jan Wahl's children's book.
During the past four years Manuela has been  collaborating with Concrete Timbre as a performer and composer of music in various shows in NYC.
For more information, visit www.manuelalechler.com
Leonidas Sakellarides was born in Rhodes, Greece. He is a graduate of the University of Hull (UK), holding the Degrees of Bachelor of Music, Master of Music (musical composition) and PhD of Music (musical composition). He also has a diploma in violin teaching and in advanced theoretical studies of music by the Greek Conservatory and a diploma in classical singing by the Classical conservatory of Greece. His professional experience involves teaching, conducting, composing and performing. He teaches music at various primary schools in Greece since 2006. He is also active as a private teacher and member of the teaching staff of the Music school of the Dodecanease, where he teaches advanced theory and counterpoint, orchestration and composition, as well as violin and singing.
As a performer (tenor singer) he frequently performs as a solo recitalist in various cities in Greece (Athens, Sparta, Rhodes, Salonica) as well as abroad (Turkey, Cyprus, England, Egypt). He is also the founder and conductor of Rhodes Camerata orchestra and the Xeni Emner student music ensemble as well as an assistant director of the Rhodes Children's Choir and the Experimental choir of the municipality of Rhodes.
As a composer, Leonidas Sakellarides has written a number of works that have received performances in Greece, Bulgaria, the UK and the US. Some notable performances include the BBC Philharmonic premiere of his Return to Ithaki in 2001 as well as the performances of the Epigrams at the 2005 and 2006 electroacoustic music conference in Corfu, the six monologues for solo flute at the 2009 composers – performer's conference at St. Catherin's school in Athens and the 2015 participation at the electroacoustic festival of the National Center of Music Research (KSYME).
His music has been published by Nakas publications and York University press publications.
John-Paul Norpoth is a multi-instrumentalist, composer/songwriter, and producer from Brooklyn, New York. He holds a Master's Degree from Mannes College of Music in Double Bass Performance. Mr. Norpoth has played and/or recorded with diverse musicians ranging from Black Dahlia Murder & Akron/Family to Orpheus, Itzhak Perlman, and Alarm Will Sound. Mr. Norpoth is a songwriter and producer under the name Hollands. www.hollandsss.com.
Mr. Norpoth has released numerous LP's and a score of EP's of his own compositions and collaborations. With his musical partner Jannina Norpoth, Hollands are composing a new performance piece and song-cycle inspired by the story of 1001 Nights and the musical themes of Rimsky-Korsakov's Scheherazade.
Hollands, in collaboration with PubliQuartet and Amy Khoshbin, won the 2015 M-Power Scholarship Grant via the Sphinx Organization to compose and produce the Scheherazade Project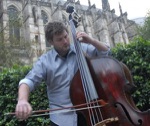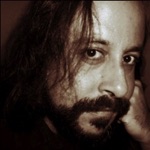 Kristin Samadi is a pianist based in NYC. She is currently on the faculty at Adelphi University as well as the Director of Music and Organist at Rutherford Congregational Church in NJ. Mrs. Samadi received her BS in Piano Performance at Adelphi University in the spring of 2006. She graduated cum laude and was the 2006 recipient of the James Gould award for Excellence in Music. Mrs. Samadi completed her Masters Degree in 2008 at the Aaron Copland School of Music at Queens College (CUNY). She also pursued the newly inaugurated Artist Diploma in Chamber Music at the same institution in 2009. Most recently Mrs. Samadi has been studying with Madeline Bruser author of "The Art of Practicing". She plans to become a certified teacher in this specific methodology of teaching.
As a winner of the 2013 American Protégé International Piano and Strings Competition, violinist Adam von Housen made his New York recital debut in Weill Recital Hall of Carnegie Hall in May 2013. Currently based in New York City, Adam is an Advanced Diploma candidate at CUNY Brooklyn College Conservatory of Music and is in the studio of Masao Kawasaki.   He serves as Co-Concertmaster of the Conservatory Orchestra, has served as Concertmaster of the CUNY Graduate Center's Contemporary Music Ensemble,  is a member of Brooklyn College's Contempory Ensemble "conTempo", and is a member of The Curiosity Cabinet, a contemporary music ensemble based in NYC. Adam also received his Master's Degree from Brooklyn College, where he was the recipient of the 2015 Dean's List award, awarded to one instrumentalist in the Master's degree 2015 graduating class for outstanding achievement in academics and performance, the 2015 Robert Starer Performance Award for outstanding performance of contemporary music, and the 2014 ConTempo award for outstanding performance in the ConTempo ensemble.He also performs as a section violinist with the Chelsea Symphony, with which he performed as soloist in the Dvorak Romance on the 2014-2015 season. He regularly freelances around Brooklyn, Manhattan, and Queens, and records with bands such as Art Decade.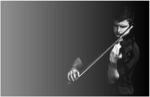 Girolamo Deraco studied music composition under Maestro Rigacci at the Istituto Superiore di Studi Musicali "L. Boccherini" Lucca, where he received the Master in music composition with the highest distinction, and scholarship.
He has attended courses and partici­pated in masterclasses with a number of great international Maestroes, including: Andriessen, Corghi, Solbiati, De Pablo, Fedele and Gooch (Truman State University, Missouri, USA - International Exchange Student).
He has been a finalist and the winner of several international composition contests, amongst which the Windstream, the APNM of New York, Boston Microtonal Society, Anima Mundi and the Bartok­plusz Miskolci Operafesztivál, where he won two Guinness world records, the first for the shortest opera ever written - 8 seconds - and the second for the opera most played dur­ing a single evening - 17 times. He has recived the "Riconoscimento di merito" at the PREMIO ABBADO AWARD 2015.
He was awarded several scholarships, including Chigi­ana Academy of Siena in 2008, 2009 and 2010 which allowed him to practice under Maestro Corghi, and for which he received certificates of merit. During this time he collaborated on a number of varied compositions, many of which received unilateral ac­claim.
Since 2009 he has been Composer in Resi­dence at the Montegral Academy of Lucca under Maestro Kuhn. For the biennium 2016-17 he is Composer in Residence, awarded in Musictheater and Opera Composition residency, for the Ensemble Moto Perpetuo, New York – USA. His music is published by Edizioni Sconfinarte.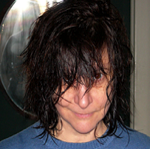 In 1999, I founded Concrete Timbre as a studio performance group to create and record new music compositions, soundscapes, sound installations, and several theatrical sound designs. In 2005 we moved out of the studio and have produced contemporary music in a theatrical setting as well as theater performances that feature music and sound including: 4 Wars, Folie Pure, Coq tôt, Satie's Birthday Party, Un Lieu de Vie, Anna Strong's Laundry, Age of Pain(e), Voices of justice and consangunity..., and Dziewczyna. Each of these interdisciplinary productions featured the talents of more than 20 artists.
As a composer and sound designer, my compositions have been performed at many (many!) innovative performance spaces in New York, Paris, Baltimore, Buffalo, California, and Florida. I've been lucky to work with some really inspiring interdisciplinary artists with a flair for the contemporary (!)
So for now, I try to keep the music great, the story interesting, the visuals stimulating, and the movement fresh - and of course, then wind them into a spectacular melange. Merde! For more information, visit www.AnnWarren.net.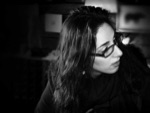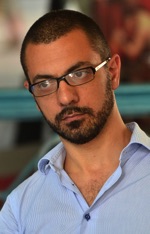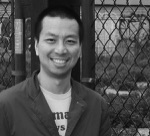 Leland Cheuk is the author of the novel THE MISADVENTURES OF SULLIVER PONG (CCLaP Publishing, 2015). He has been awarded fellowships and artist residencies including one from the MacDowell Colony, and his work has appeared or is forthcoming in publications such as Salon, The Rumpus, Kenyon Review, Prairie Schooner, [PANK] Magazine, Vol. 1 Brooklyn, Bartleby Snopes, The Margins, and elsewhere. He is also an assistant fiction editor at Newfound Journal. He lives in Brooklyn.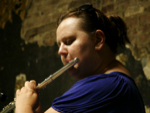 Aleksandra Miglowiec graduated with a Master's degree in flute instrumental studies and pedagogy from the Grazyna and Kiejstut Bacewicz Academy of Music in Lodz, Poland under the direction of Professor ZW. Antoni Wierzbiński.
In Poland, she played in the Youth Rock Symphony Orchestra, the Ladies First Symphony Orchestra, and various chamber groups. Currently she resides in Connecticut, where she provides flute lessons, plays the piccolo with the Connecticut Valley Chamber Orchestra, folk tunes on the flute with the Birch Creek Band, and (yet again) various chamber groups.
Aleks takes every opportunity she can to drive down to the city and create music with concrete timbre, and secretly wants to move to the city someday to be surrounded by expressive creativity.
Visit her site at:  http://www.reverbnation.com/birchcreekband