Un Lieu de Vie is made possible in part with public funds from the Manhattan Community Arts Fund, supported by the New York City Department of Cultural Affairs in partnership with the City Council and administered by Lower Manhattan Cultural Council. LMCC.net
Un Lieu de Vie is an experiential piece that is loosely based on the 1917 Jean Cocteau - Erik Satie - Pablo Picasso collaboration of Parade. It represents the collective memory of Erik, an eccentric, memory-starved, and lonely New York artist who seeks glimpses of the past while wandering the streets of Manhattan. Through Erik's rumination, we are transported to specific locales at various stages of his life. We experience Erik's memories through the clamor of sounds, sights, and rhythms that embolden him to fulfill his destiny.
Is he a musician? He denies that. Does he compose? He says he notates. Is there a love interest? Well there was that one!
Does he respond to his surroundings? That's complicated! Rumor has it that, in order to not be influenced by the outside, he kept every letter ever written to him but never opened and read them. On the other hand, he is keenly aware of what is happening in his art, with his acquaintances, and in his city and shouts it in high voice!
The story is not linear. There is no imposed theatrical arch - imposing one works against the concept. It's a life with a conglomeration of memories, all shared in the time of the show.
We use a collage technique to construct a complex performance that includes the popular, the artistic and the everyday. Un Lieu de Vie is a dialogue with modern life and the tension in modernity between a celebration and disparagement of popular culture. It is a show that represents an absent life that is never seen, a form of theatrical deferral.
Imagine sitting on the steps of the TKTS booth at Times Square at 7:00 pm on any weekday for say, 75 minutes. As you watch the chaotic activity, imagine the stories you would hear if you could ask 20 or 30 people to tell you something about the past. Now imagine that those stories all belong to Erik!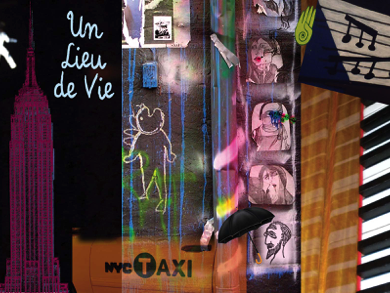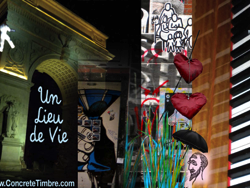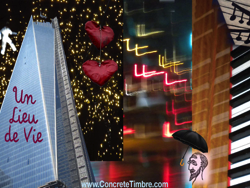 Producer/Creator:
Allan Markowitz
concrete timbre & d'moiselles
Creation: 2014
Composers:
Chris Chappell
Whitney George
Lillian Redl
Ann Warren
and Erik Satie
Writers:
Carina Beckerman
Terence Diamond
Mark Farnen
Nancy Greening
Sylvaine Hinglais
Ann Warren
and Erik Satie
Projections:
Robert Morton
Director:
Ann Warren
Music Director:
Whitney George
Choreographer:
Michelle Stuckey
Production Stage Manager:
Joanne Schwartzberg
Musicians:
Saxophone: Manuela Lechler
and
Curiosity Cabinet members:
Piano: Melinda Faylor
Double Bass: Emilio Guarino
Percussion: Joe Tucker
Violin/Viola: Pedro Vizzarro Vallejos
Trombone: David Whitwell
Performers:
Nathalie Bryant
Fedly Daniel
Samantha Grassian
Zilong Zee
Performances:
Sunday-October 26, 2014 @ 7:30 pm
Monday-October 27, 2014 @ 7:30 pm
Saturday-November 1, 2014 @ 8:30 pm
Sunday-November 2, 2014 @ 7:30 pm
Monday-November 3, 2014 @ 7:30 pm
Where:
Gallery MC
549 West 52 Street, 8th floor
(between 10th & 11th Ave.)
With support from:
Allan Markowitz
Robert Morton
Ann Warren
Richard Sage
Michael Stebbins
Milica Paranosic
Gallery MC
Anonymous (several!)
Thank you!
The story line is simple: a Conductor (the train kind, not the music kind - although there are similarities)
introduces episodes from Erik's life. Each announcement hopes to entice the audience to a specific episode (and there are simultaneous ones, in essence competing ones!) around the studio.